Congratulations on your move to a new home! Whether this is a local move or a big international change, there are a lot of things you can do to ensure an easy transition. These resources can help.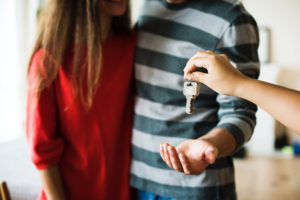 Moving Services
Figure out how you are going to handle your move. You may choose to DIY (do-it-yourself) to save some money, or hire a full service moving company to save some time. Either way, start the planning as soon as possible so that you are ready for moving day.
Long Distance Moves
Pack a Container: services like UPack will deliver empty moving equipment for you to load (you get 3 business days to load it up, then they drive the container to your new place where you unload the container)
Rent a Moving Truck: companies like Budget Truck Rental and U-Haul offer local or long distance moving truck rentals
Hire a Moving Service
Local Moves
Pack a Container: companies like SpareFoot offer portable storage containers for moving or extra storage
Rent a Moving Truck: companies like Home Depot and U-Haul offer vans and trucks for local moves
Hire a Moving Service
You may not need to purchase any packing supplies if you hire a full service mover, but if you are doing any part of the moving yourself, you'll need to have moving and packing supplies on hand. These may include hand trucks, moving boxes, tape, markers to label the box contents, protective materials / blankets, straps, and a heavy duty padlock for containers / trucks. 
Moving Supplies
Make sure that you are equipped with everything you need for a successful move. You'll need a variety of boxes in different weights and sizes, a labeling system, tape, box cutters, packing material, and at least a couple of people to help. It's also a good idea to keep a standard tool set around to help solve any surprises. Go the extra step and pack a cooler with snacks and drinks to keep you fueled throughout the day.
Transfer Your Utilities & Services
Make sure you make arrangements to turn off (or transfer) your utilities at your old home, and have the utilities turned on at your new home. This may include things like:
Utilities: power / electricity, gas, water, television / cable, internet, home / landline phone, mobile phone, trash service
Other Services: lawn maintentance, pest / termite control, security / alarm monitoring, newspaper delivery & subscriptions
Personal Information Updates
You'll need to update all of your personal accounts with your new address. Here are some of the most common accounts to update after a move:
Bank accounts: Update your bank account with your new address and order new checks that reflect your new address. 
Insurance: update all of your insurance products (health, renters, auto, life, umbrella, business, etc) before you move so that you will not have any gaps in coverage
Mailing address: Submit a change of address form to USPS.com to ensure your mail arrives at your new address
Veteran's Administration: Update your address and contact informtion online at VA.gov
Voting Registration: Register online at Vote.org to vote at your new address 
***
Note that the information listed above is intended as a general reference / guide and may not include everything for your personal situation.